July 2023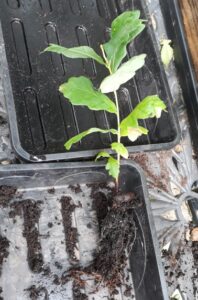 The seeds collected last autumn have grown well. The resultant saplings are now so big that they need to be potted on. They will be planted this winter. Each tree will sequester a tonne of carbon in its lifetime.
Wherever you are, whatever you are doing, pick up a few tree seeds this autumn. Plant them in compost and keep them watered. The following year, you will be able to plant them out.
january 2023

We didn't plant in December because of people's various Christmas plans. We have moved on to Lower Combe Farm. The planting session in January was quite chilly, but despite a hard frost, the ground beneath the fallen fern had not frozen. The cold weather got us moving though and progress has been very good.
november 2022
We have finished planting Harfish Wood. Over 1400 saplings planted in 4 acres. With 467 saplings donated by I Dig Trees, all the remaining spaces were taken. 25 volunteers braved the end-of-November weather to plant trees. This is a magnificent achievement and a beautiful action. This is for everyone. This is for you.
If you are as moved by this as we were, tell your friends. Tell them we are fighting climate change. Ask them what they are doing to fight climate change.
On to Lower Coombe next. In the New Year, we will be starting a second wood.
october 2022
34 people came to our second planting day. We planted over 500 saplings.
We had collected saplings from neighbours via nextdoor.com, grown some from last autumn's tree seed, and bought some from Woodland Trust.
It was very good to see children there who were sincerely interested in planting trees to fight climate change.
In the middle of the wood, we planted the Queen's Tree, in honour of her late Majesty.
september 2022
Chris has been travelling around this afternoon, collecting donations for the new wood. This is Oakey, Pete's pride and joy, a six-year-old oak tree, now heading for its new home. This will be right in the centre of the new wood, and will be known as The Queen's Tree, in gratitude and thankfulness to her Majesty Queen Elizabeth II.
August 2022
Donhead St Andrew Fete on Bank Holiday Monday – one year on. We have started building a new wood.
We had a magnificent offer of land on which to plant saplings at the last fete, and last season we planted over 400 trees! At this year's fete 23 people gave us their emails for us to contact them when the next planting session was set.
What are you doing?
Fighting Climate Change!
August 2022
The Gillingham and Shaftesbury show took place on the 17th. We were there flying the flag. A lot of people were interested and 20 people gave their emails so that they could be informed of planting days. There was also a lot of interest in the free saplings grown from apple pips.
Keri, from 'This is Alfred', interviewed Chris at the stall. You can hear the podcast at https://thisisalfred.com/podcast/the-alfred-daily-18th-august-2022/. Chris' interview is at 36.30 .
David Clayton, visiting the show, invited us to have a stall at 'People in the Park' https://www.transitionsalisbury.org/people-in-the-park-2022, so Climate Change Activists is coming to Salisbury.
juLY 2022
The seeds collected last autumn are now saplings waiting to be planted in October, once the dry, hot weather has finished. The most successful is the sweet chestnut, although there are a number of beech, and even a few apple. There were almost no acorns last year, so we are hoping for some this year.
Seedlings, once sprouted can then be transferred to deep pots. Disposable plastic pint beer "glasses" with holes drilled in the bottom have worked well and can be used year after year. Sapling seedlings seem to put down deep roots before showing much above ground. Understandable really!
june 2022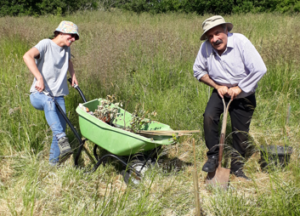 The Woodland Trust say that you can plant cell grown trees at any time. So, there we were in the heat of the Solstice Sun, planting apple trees and oaks. We are forming Harfish Wood in Wardour, near Tisbury. Four of us planted 18 trees and watered them liberally. Since March 2022 we have planted 416 trees.
We will carry on in October, when the official tree planting season starts – exact date to be advised (if you give us your email on our Contact Us menu option, we will notify). Our next planting session will be in October, date to be decided.
MAy 2022
The 4 Villages Fete (Donhead St Mary, Charlton, Ludwell and the Coombes) took place on Sunday 22nd May at the Remembrance Field, Charlton. We carried on advertising the fact that we were planting saplings to help fight climate change. A number of people wrote down their emails to be informed of planting days, and there was a lot of support for what we were doing. We continue to ask people to give their emails and ask them to tell their friends.
One thing everyone can do is to encourage others to join in – either sign up to be notified, or even start their own planting group. Collecting seeds is fun and you can plant them (advice on this web site). You can even tend them until the following autumn and then come to a planting day and plant them in the new wood we are making.

The organisation started at the Donhead St Andrew Fete in August 2021. We erected notice boards informing people of the Science of climate change and outlining our proposal to plant saplings to grow trees to fight Climate Change, following Sir David Attenborough's advice. We needed three basic things:
1) Land on which to plant,
2) Saplings to plant on that land, and
3) Volunteers to plant the saplings.
We had a magnificent offer of land from the owner of a large field in Wardour, near Tisbury. The area that was planted later became Harfish Wood.
Planting trees on its own is not enough to stop climate change. To stop it we need to stop burning fossil fuels. Then, planting trees will draw down the excess carbon in our atmosphere.
Cop 26 was the 26th UN Climate Change Conference. It was widely feted as Mankind's last good hope.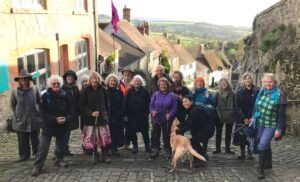 There were several subsidiary events to join this and develop the energy needed for change. One such was the Walk2CoP26 event. People from London and other cities walked to Glasgow, where the conference was to be held, and invited others to do the same wherever they were. We walked from Tisbury to Shaftesbury "with" the other walkers.
So, a group of us set off from Tisbury in the morning and walked past Harfish Wood to Semley for lunch. Some left, some joined and 17 of us proudly descended on Shaftesbury Town Hall.
In the event, CoP26 failed to do what was needed.
It became apparent that the tree planting, designed as a secondary activity, was going to be the thing needed to both draw down the legacy carbon and convince the politicians that we mean it. Dr Andrew Murrison, our MP, came to a planting session and got his hands very dirty. Well done. Just 542 MPs to go.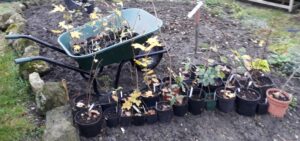 In November 2021, tree seeds were gathered and requests for donations to be planted at Harfish Wood were collected. Over 550 pots of seed were planted and watered over the winter. The good people at Plantworld (Milton On Stour, Gillingham) gave us 50 saplings for our planting days. They are mostly oak, birch and field maple, but there are various others, which is always helpful for biodiversity.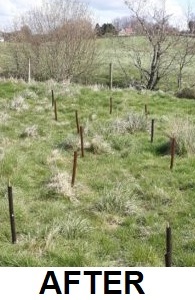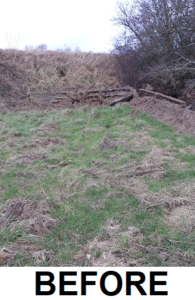 The first planting day was on March 19th 2022, just before the first day of spring.
We assembled outside Wardour School and walked down to the river Nadder, across the wooden footbridge and into the planting field. Dr Andrew Murrison, our MP, came and planted with us. We planted all day Saturday and some of us came back on Sunday for more. By the end of the month we had planted 395 trees.
There were a number of children there. It was good to see them. After all, it is their future for which we are fighting.
The Spring Countryside Show took place on the 23rd and 24th at the Turnpike Showground, Motcombe. We had a stall there to inform people about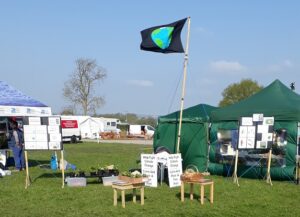 Climate Change and for those willing to help to fight it we collected email addresses so that people could be informed of sapling planting days.
Many people were very supportive, there is almost no argument now, but many do not yet realise that there is something that they can do to make a substantial difference. Our planting will not only draw down carbon, but will help politicians to see that we want them to get on with the stopping of burning of fossil fuels.